Brand Ambassadors & Crow Race Team
Brand Ambassador and Crow Race Team
Amy has been riding for four years and it has taken over her life in the best possible way! After a traumatic ankle injury, it was a challenge to regain form on steep tech, usually favouring flow. Having entered some races she found her passion lay in Enduro riding her Santa Cruz Hightower.
Brand Ambassador and Crow Race Team
Andy has been riding MTB properly for a year and a half. He did ride prior to this but due to a bad shoulder injury his progress was cut short. Since returning from his injury he has been riding every minute and cant get enough. Andy rides regularly at Comrie Croft and in the Tweed Valley. He would like to take on some downhill races this year with his main focus on enduro!!
Gareth is a passionate grassroots rider hailing from the Peak District in Derbyshire. Coming into his 3rd year on the bike now and what will be his 2nd racing season, Gareth has found a home riding enduro. Not limited solely to enduro though, his love for all things bikes sees him out on his Santa Cruz Hightower as often as he possibly can. Be that an uplift day at the bike park or even crunching out the XC miles taking in the local scenery, riding natural singletrack and generally just having a good time with his friends.
Lynn tried mounting biking back in April 2018, and absolutely loved it. She likes to get out biking at every opportunity. The trails in Aviemore are endless and there is so many trails to choose from. Lynn rides a mixture of natural trails and trail centres, with Laggan Wolftrax being her favourite, but loves to ride in different places all around the UK. She currently rides a Juliana Roubion. Lynn is hopefully riding in Ainsa next year and do some mountain biking in the Pirineos.
Founder of Crow, Brand Ambassador and Crow Race Team
Piers has been riding MTB since the first real ones were available. His first MTB was the Raleigh MTrax followed by the original Orange P7. When his day to day Crow duties allow he races, (occasionally), with the most of his riding done on steep and natural enduro style trails. More racing will ensue in 2021as well as working on new Crow Mountain Biking Products.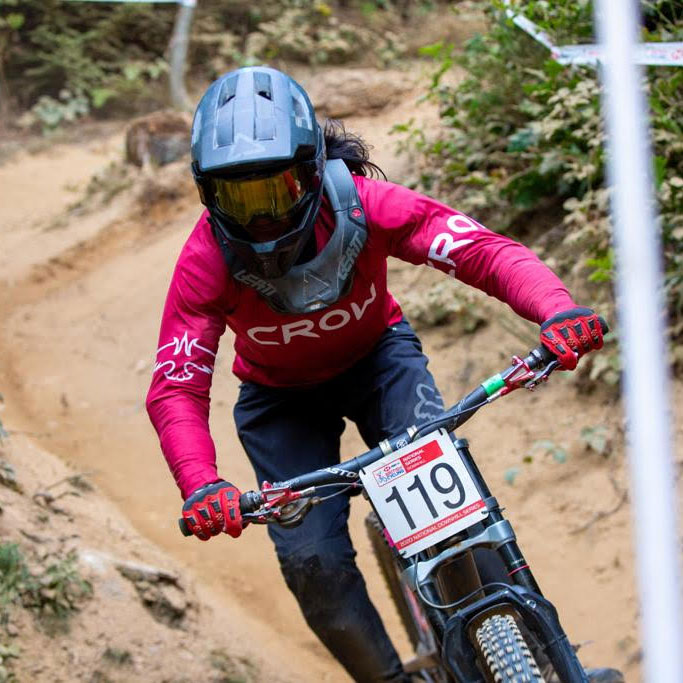 Vaska started her MTB journey with XC in the Peak District in 2013 but soon found the real fun lies with DH and Enduro. Even though she runs a very busy sports therapy clinic and has had a fair share of injuries over the years, every spare minute she's got is dedicated to riding. Last year was Vaska's first competitive season and she loved every minute! Vaska raced the Pearce series and managed to come 1st overall in her category, the National DH series where she came 3rd overall and had a dabble at a round of the Welsh Enduro series where she came 2nd.
Vaska is excited about getting back on the bike after a serious shoulder surgery and trying to improve her last year's race results in 2022.
Kacy has not long turned 13 and has been riding for 3 years. She can usually be found with her wheels high in the air. Kacy has made the final of the annual Kinnoull Hill whip off and more recently is one of the youngest girls to run Kieran's Jump Line at Glenlivet Bike Park, top to bottom.
She is also a demon on the pump track, coming second in the Scottish regional qualifier at Velo Solutions Pump Track in Leven.
She has BIG plans for 2024.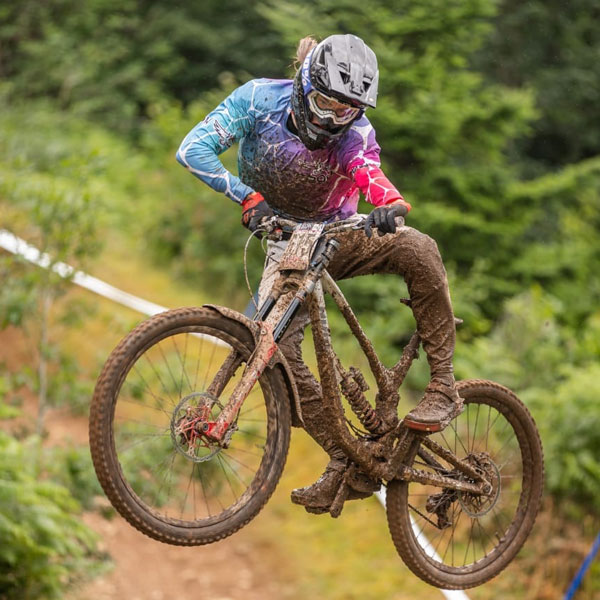 Meet NoahMac, who is 17 years old and whose passion is DH. He has been riding mountain bikes for 3 years and loves every part of it! Noah's future plans are to race DH at an elite level where he can show off his skills and passion for downhill. Noah takes his natural abilities and takes time to teach others and help them improve their skills.
Adam started riding 9 years ago for some fitness for motorbikes, then quickly found downhill. Now a keen downhill racer, Adam competed in his first national series round last year and his first National champ this year. Adam is normally out on any bike on his days off, from XC miles to DH tracks. Adam's goals for next year are to tackle some unfinished business at Fort William Nationals and compete in the Mega Avalanche.